Hello all,
my name is Federico, I live in San Francisco where I play guitar in a band called LoFi Satellites.
Regardless of the statement in the band's name I do intend my gear to be at the top of their performance. That being said I have been "fighting" with a beautiful 1974 Fender Twin Reverb Silverface Master Volume Push Pull Switch.
Schematic Fender 100 Watts RMS AMP w/ Reverb and Vibrato
(the white schematic, not the blue one)
After having changed the resistors in the Power tubes section by DALE's 1% 50 ppm (the 470 and 1,500 Ohm) and the rectifier section (new diodes) I have added the potentiometer on
Rob Robinnette's mod to be able to adjust the BIAS Voltage while keeping the BALANCE potentiometer
.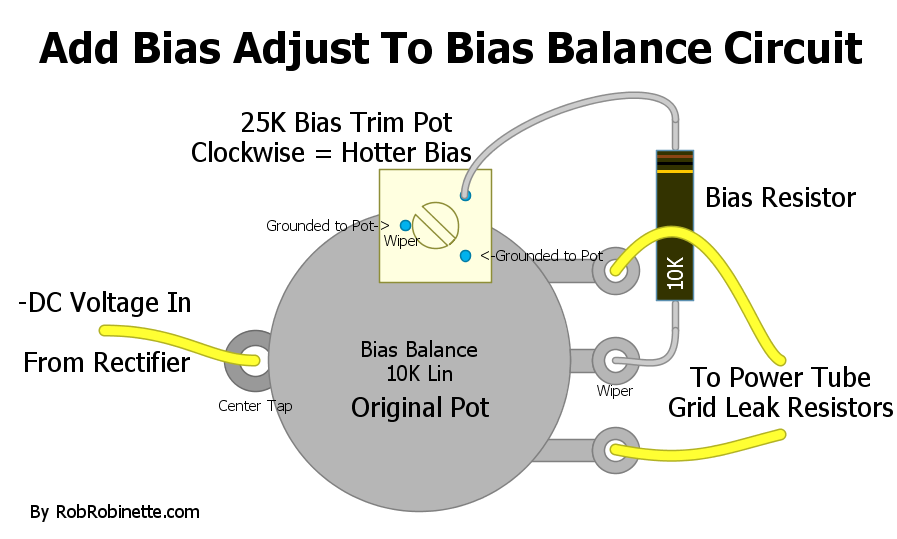 After this mod I was able to set up the voltage so I got exactly -52V out of the balance potentiometer and -64V at the rectifier section with the plate voltage (pin 3 of the power tubes) was 450V (and balanced - same value - on the push an pull sides).
Happy about how nice the voltages looked I bought the
EUROTUBES Octal Bias Probe
The current I've read was surprisingly low: 13 mA instead of the 39 mA I was expecting (the expected value comes from 25W/450V*70%*1,000)
In the end I was happy with the good voltages at circuit level but not happy with how cold the tubes were running.
I adjusted the added bias potentiometer until I got 38 mA reading at the bias probe (couldn't reach 39 mA). After that I disconnected the bias probe to re-measure the voltages on the circuit and i got -45V and -60V (instead of the nominal -52/-63V) with 439 V at pin 3 on the power tubes (whit that voltage I should have reached about 39.9 mA)
Summarizing:
My question is,
what could be the reason why I get so low current into the power tubes when all voltages seem to be right on the circuit side?
Thank you guys for your replies in advance, I've been following this forum for a while and it has been a great help on this project.
Best,
PS: to the possible question: "what do your ears tell you?" the answer is I prefer the right current in the tubes, however my engineering background keeps thinking why do I need to be 13% out of the nominal -52 V.