Hi,
A couple of years ago I bought a System 8 16-4-2 desk but it came with a non-standard power supply which works fine but doesn't have phantom power. I was wondering if there is a way I could adapt it to provide phantom power as well.
The current power supply transformer has a +15v and -15v AC secondary winding which is centre-tapped for the audio ground. Each AC supply is seperately rectified, smoothed and regulated to provide +15v and -15v DC to the mixing desk.
What I was thinking was that I could somehow rectify the +15 and -15v AC supply to around +30v DC which, when smoothed, would give around +42v DC. But I'm not sure if this is possible without shorting out the transformer.
I have taken the power supply apart and drawn up a schematic of it: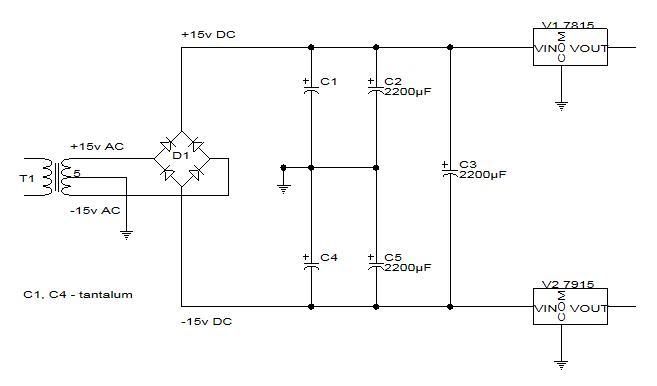 There were a couple more caps and diodes after the regulators but I didn't have time to add them to the schematic because i needed to use my desk in a hurry.
So, is there any way of having phantom power as well using the existing transformer, or will I need a second transformer?
Thanks a lot,
John.