New for 2013, from the final PAF series the VL HD PAF replicas. These are pretty much as close as anyone will ever get to nailing a vintage PAF, the HD series came from a new interpretation of the massive amount of lab data I have on them, there's so much of this stuff to review I keep re-reading it now and then and get some new insights. There are actually no direct matches for any of the materials in old PAF's, the wannabe's don't tell you that because they don't actaully know it, but it is possible to get really really close to matching an actual known PAF set, as you'll see in these 3 videos.
This first video shows the new HD Lite bridge, and the HD BN (bright neck), paired together and compared to a borrowed 1961 PAF set in the same DCR range. There is an alternate neck called the SN (sweet neck) that has a softer bass and sweeter highs for those who like to play more cleanly, as well.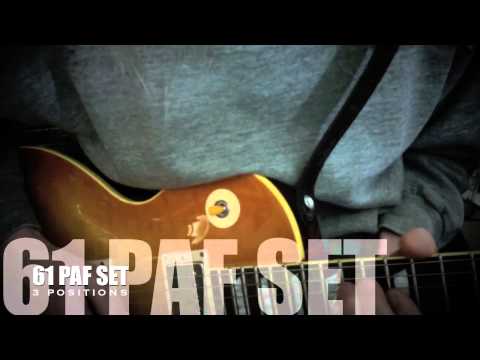 This second video shows the new HD PG neck, (Peter Green spec) but played IN-phase instead of out of phase. This neck has the same spec as Duane Allman's neck PAF did, so I give a shot at some Duane slide, I suck at it but it'll give you a taste. FYI, Duane used an ported back speaker cab and use bass speakers, a major secret of his personal tones. Speaker was a low budge Cerwin Vega bass speaker, a knock off of a JBL but different. The bridge in this video is the HD VL61 bridge which has over a year of customer sales, has been played by Billy Gibbons in a Tao El Mirage guitar, and Mick Grabham of Procol Harum.
https://www.youtube.com/watch?v=4NlogZGgUbA
This last video is a demo of the HD PG neck again, but compared to the 1961 PAF from set in the first video, but installed in the neck, for a side by side taste of HD PG vs. real PAF.
https://www.youtube.com/watch?v=rVEMmlokyxQ
I have over 40 videos, now, on YouTube now,
http://www.yotube.com/sdpickups
There are 11 videos with a new one coming shortly, of all the HD PAF products, there are five HD PAF pickups, that can be combined to create your ultimate reproduction set. The HD PAF's have a full ten years and counting, of the most intensive and well done research, with emphasis on how they actually create their unique voice, and less on pretty cosmetics, and lame marketing scams. Mick Grabham did a demo for one of the videos using his vintage AC30 and AC15, and is soon going to demo them with his mint vintage JTM45 1965 head. Subscribe to my videos to keep up with currrent projects. Enjoy........ DS